Site Updated May 1, 2014
Welcome!
We are a group whose common interest is the Model T Ford Automobile. Our club's purpose is to promote the preservation and restoration of Antique Automobiles, particularly the Model T Ford.
We hold our monthly meetings the first Thursday of each month at 7:30 pm where club business, swap meet, technical programs, parts information, and restoration questions are traded.
Automobile Tours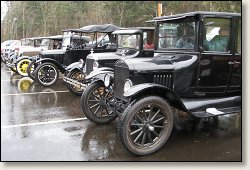 The club sponsors about thirteen tours a year. Driving the T's to Timberline Lodge, through the city streets of Portland, and up the Columbia River Gorge have been a few of our routes. Experiencing the thrill of driving a Model T one never forgets.
Model T ownership is not required for membership!
Our Members
You will never meet a more friendly group of people. We are interested in helping each other with technical assistance and parts to keep those "T's" on the road. Spring and Fall Banquets are held each year.

Contact Us
Rose City Model T Club
P.O. Box 3901
Portland, Oregon 97208
Members please note: Send dues directly
to the membership chairperson (
see form here
).