2023 Club Calendar of Events

Club Meetings are in Green

Special Events are in Red

Tours are in Blue
DATE
LEADER
TOUR
MEET AT
DEPARTURE TIME
Jan. 19
Thursday
President
Monthly Meeting
Clackamas Community Club
7:00 pm
Feb. 16
Thursday
President
Monthly Meeting
Clackamas Community Club
7:00 pm
Mar. 16
Thursday
President
Monthly Meeting
Clackamas Community Club
7:00 pm
Apr 5, 6, 7
Fri - Sun
President
Swap Meet
Portland Expo
Apr. 20
Thursday
President
Monthly Meeting
Clackamas Community Club
7:00 pm
Apr 23
Sunday
Tom Winterrowd
UP and DOWN Tour
on Vertical Avenue
Oak Grove Fred Meyer
on 99E in front of VooDoo Donuts
9:30 AM
10:00 AM
May 13
Saturday
Mark Gregush
St Johns Parade


*May not happen*

St Johns Safeway
TBD
TBD
May 18
Thursday
President
Monthly Meeting
Clackamas Community Club
7:00 pm
June 10
Saturday
Terry & Aleta
Worthey
Corbett
Fireman's Breakfast
Park across Sandy River from Troutdale
TBD
TBD
Jun. 15
Thursday
President
Monthly Meeting
Clackamas Community Club
7:00 pm
Jul. 20
Thursday
President
Monthly Meeting
Clackamas Community Club
7:00 pm
Aug. 5
Saturday
Mark Gregush
Brooks Steam-Up
St. Paul route
Canby Fred Meyer
TBD
TBD
August 13
Sunday
Donna & Bob
Earnest
Aspen Meadow
Bring lawn chair
Clackamas Fred Meyer
TBD
TBD
Aug. 17
Thursday
President
Monthly Meeting
Clackamas Community Club
7:00 pm
Sep. 21
Thursday
President
Monthly Meeting
Clackamas Community Club
7:00 pm
Oct. 14
Saturday
Vice-President
Fall Banquet
Milwaukee Elks
11:00 am
Oct. 19
Thursday
President
Monthly Meeting
Clackamas Community Club
7:00 pm
Nov. 16
Thursday
President
Monthly Meeting
Clackamas Community Club
7:00 pm
Dec. 21
Thursday
President
Monthly Meeting
Clackamas Community Club
7:00 pm
---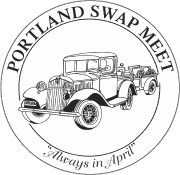 Swap Meet

The Portland Swap Meet is made possible by a committee comprised of volunteer members from six local antique car clubs: The Vintage Chevrolet Club, Historical Automobile Club of Oregon (HACO), Rose City Model T Club, Beaver Chapter Model A Club, Early Ford V-8 Club and Horseless Carriage Club. It is held "Always in April" at the Portland Exposition Center 2060 N. Marine Drive.

Vendors are screened to ensure that the swap meet is as close to 100% auto and auto-related as possible in order to maximize the opportunity to find those rare and elusive parts to restore your vintage vehicle. If you are interested in being a vendor, or if you want to be added to the mailing list, contact the Portland Swap Meet Committee. Although the Portland Swap Meet Committee takes great pride in the success of an event of this magnitude, please remember there are some things that the committee has no control over. These include: the weather, the massive traffic jams around the Expo Center (carpooling is encouraged), the cost of food and beverage concessions, and the cost and availability of parking.

You can get more information about The Portland Swap Meet on their website, by email,
or by calling (503) 678-2100.
The Portland Swap Meet
April 5th, 6th, and 7th 2023

*Please see the Home page for the latest update from the Portland Swap Meet.*

Portland Swap Meet Committee
PO Box 1542
Beaverton, OR 97075-1542
Phone: (503) 678-2100
Fax: (503) 678-1823
Email: PDXswap@aol.com
Website: http://www.portlandswapmeet.com